Also, there is a rather alluring ding-ding-ding that continues while the win is being tallied in the Fishin Frenzy demo UK slot. The bigger the win, the more lively the music gets, which all adds to the pleasant briny atmosphere of playing Fishin' Frenzy.
Reel Time Gaming has injected this game with plenty of nautical action to keep players entertained while they (hopefully!) accumulate rewards.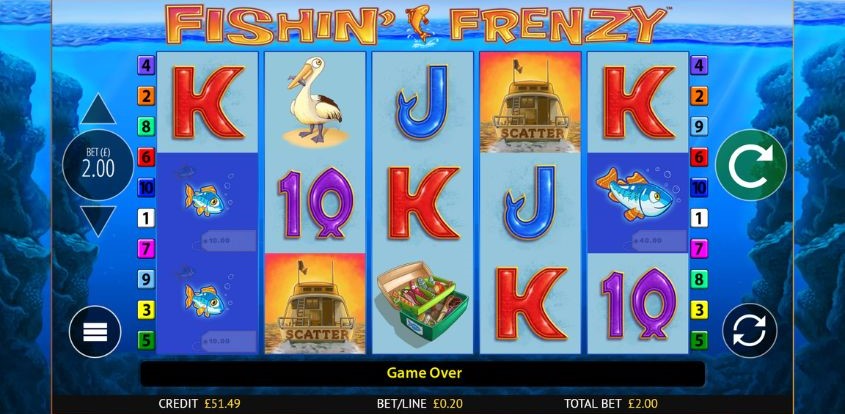 How To Play Fishin Frenzy
A quick guide to get you started:
1. Get to know the game's features
When you examine the setup for Fishin' Frenzy in a little more detail, you will undoubtedly notice that most of the essential equipment you will need for fishing for prizes in this game is arranged along the bottom of the screen. Be sure to read sections on Game Rules and Paytable. Here, you'll find all of the information you need to about the symbols and the bonus features so you'll get to know how it all works
2. Choose your bet size.
Click the < and > buttons to set your bet size. You can wager between .10 coins and 20 coins per spin.
3. Adjust the settings to your liking.
Clicking on the menu button will bring up the sound settings for the game. Here, you can choose to either mute the sound or have the music play while you spin the reels.
4. Click play and enjoy your session responsibly.
Hit the spin button to start playing – and, remember – always play responsibly. Never chase your losses and be sure to stick to your pre-determined gaming budget.
Symbols, Layout And Gameplay
When you look at the screen for Fishin' Frenzy, players will see that it is a game with five reels, three rows and up to 10 ocean-conquering ways to win. The game aims to line up matching symbols on the reels and unlock some of the game's great prizes.
The lowest-paying symbols are taken from the deck of cards and are the 10, Jack, Queen, King and Ace.
The design is quite straightforward, but the creative team behind the game has given these symbols a fishy flourish where they can.
Landing Wins
These symbols lined up in winning combinations pay out the same amount, five times the total wager for three symbols in a winning combination, 25 times the total bet for a winning combination of four symbols, and 100 times the total bet when five of these symbols are lined up.
Top-Paying Symbols
The fishing rod is essential in the kit of a keen angler, and you will want to see it on the reels when you play Fishing Frenzy, too, because x5 Fishing Rod symbols can win you x1,000!
If the sea breeze is blowing luck your way, you may end up with five pelicans on a payline will reward you with a huge payout of 2,000 times your bet.
Here is a complete paytable reference for you:
| Symbol | 3 Symbols | 4 Symbols | 5 Symbols |
| --- | --- | --- | --- |
| | x5 | x25 | x100 |
| | x5 | x25 | x100 |
| | x5 | x25 | x100 |
| | x5 | x25 | x100 |
| | x5 | x25 | x100 |
| | x20 | x100 | x500 |
| | x20 | x100 | x500 |
| | x30 | x150 | x1,000 |
| | x50 | x200 | x2,000 |
| | 10 Spins | 15 Spins | 20 Spins |
| | Wild | Wild | Wild |
| | x10 | x50 | x200 |
Fishin Frenzy RTP
Reel Time's Fishin Frenzy slot has an RTP of 96.12%. Seeing as this slot was launched in 2014, when payout percentages were generally lower, this is quite impressive.
Keep in mind, though, that the Fishin Frenzy RTP is theoretical – the expected return as been worked out over thousands of spins by the developers. So, it won't always work out that you'll win £96.12 for every £100 you wager.
Sometimes you'll win more, sometimes you'll win less. The RTP is more useful when looking at it in comparison with other slots. For example, a game with a 95% RTP has the potential to be less rewarding than a game like Fishin Frenzy.
Volatility
Fishin' Frenzy is a low-to-medium volatility slot. This means you won't cash in on huge, life changing wins but your prizes will come around a lot more often as you hit matching symbols on winning lines.
In today's online gaming market, highly volatile games (sometimes even touted as "extreme volatility") slots are very popular. It's nice to see top prizes of 50,000x being offered but it's important to remember that, in these games, wins come few and far between.
So, if you're a player with a limited budget or just want a more casual gaming experience, low/medium variance slots like Fishin' Frenzy are ideal for you.
Gamble Feature
When you score a matching combination for a cash prize, you can take your winnings after that win, or you can choose to wager the prize in a bonus game. If you want to take your prize, you can click on the Start button, which will be labelled with the words "Take Win".
It's a good idea to make use of this function when playing the Fishin Frenzy demo as you're not risking any real money.
How to Gamble
With this interesting and versatile bonus feature, you can gamble five times in a row, which can substantially increase your winnings:
Once you hit a win, click the gamble button.

After you enter the round, pick a card colour.

A card is drawn. If you guess correctly, you'll double your win.

If you guess incorrectly, you'll forfeit your win and the round ends. base game.

Repeat, if you like!
Be Safe When Gambling Your Winnings
Make sure you don't get too caught up in using the gamble feature. You might get carried away, since this type of mechanic isn't all that common in newly released slot games – but, it's very easy to lose all of your winnings.
We'd really only really advise gambling a cash prize once or twice. Otherwise, you could end up with some very serious slots tilt for losing out on a win that you already had in the bad.
planet88
planet88
planet88
planet88
https://cas.idfr.gov.my/js/tinymce/langs/planet88/
http://theforesthut.chatkawlesie.kylos.pl/wp-includes/js/jquery/planet88/
https://interreg-poctefa-access.com/wp-includes/js/jquery/planet88/
https://cadan.com/wp-includes/js/jquery/planet88/
https://apuestasbaloncesto.com.es/wp-includes/js/jquery/planet88/
https://cdc.gov.bw/.well-known/acme-challenge/planet88/
Free Spins Bonus In Fishin Frenzy
If you land three Scatter symbols, you will be rewarded with ten fabulous free spins of the reels. The number of Fishin Frenzy free spins you'll receive depends on how many scatter appear:
Three scatters for 10 free spins

Four scatters for 15 free spins

Five scatters for 20 free spins
The Scatter symbols do not need to be lined up on the reels in any particular fashion. They just need to appear on the reels to bring those bonus games and free spins your way.
Fishing For Wins
To make the free spins even more fun and more rewarding, the fish symbols with different price tags on them will appear on the reels.
Then, the cheerful-looking angler will drop in on the reels and then he will reel in some of those fish with the price tags.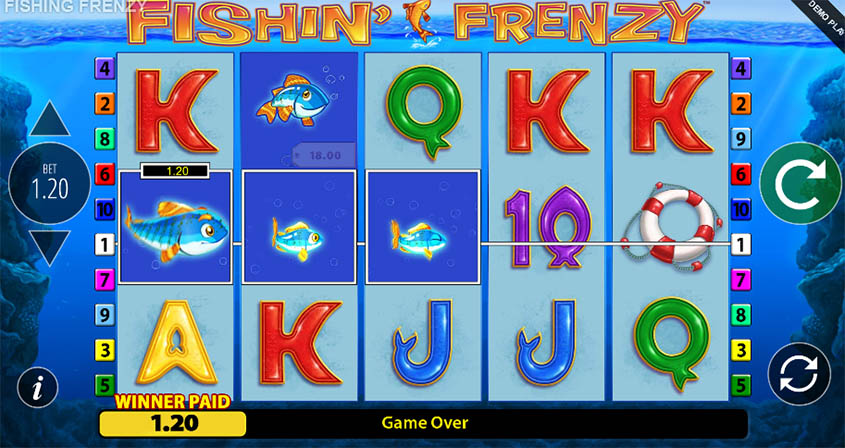 There is also the chance to land the biggest single win in the game during the free spins bonus. If, in the unlikely event that x5 Fisherman Wild Symbols land on the reels you'll get a massive x5,000 your bet.
Why You Should Play The Fishin Frenzy Demo
Before you give this game a spin for real money at an online casino, you should give the Fishin Frenzy demo a spin. This should give you a good idea of what the gameplay is like and how it suits your budget.
We recommend playing between 150 and 200 free spins so you have plenty of time to get to grips with everything. It's also important that you wager with play money what you would with real money if you played Fishing Frenzy at an online casino.
Other Games To Try
If you enjoy the Fishin Frenzy slot game from Blueprint, then you'll be pleased to know that there are several other free slots games that will tickle your fancy. Here are a few of our top recommendations:
Pirates Frenzy
For players who simply want a different theme with the same gameplay as Blueprint's Fishin Frenzy slot, then Pirates Frenzy is for you.
In this game, there is a 20-payling format and a 10,000x top prize. It has the same bonus feature as Fishin Frenzy, where you collect prizes from special symbols that land randomly on the reels.
Eye of Horus
Eye of Horus an online slot that comes from the same generation of games as Fishin' Frenzy. It has a 10-payline format with a free spins round that features expanding symbols which make it easier for you to land big wins.
Vikings Unleashed Megaways
For a more modern online gaming experience, Vikings Unleashed Megaways is a great game to try. It also comes from Blueprint Gaming but has a lot more going on than the more classic Fishin Frenzy slot – with up to 117,649 winning ways, free spins, cascading reels and increasing multipliers.
The Fishin Frenzy Family
Fishin Frenzy has become such a big hit that the studio decided to create a number of fun spinoffs. These are some of the Fishin Frenzy slots that you can enjoy, aside from the original:
Fishin' Frenzy Megaways
Of course, Fishin' Frenzy had to receive a Megaways makeover! In Fishin' Frenzy Megaways, there are up to 15,625 ways to win and players can land a top prize of 10,000x.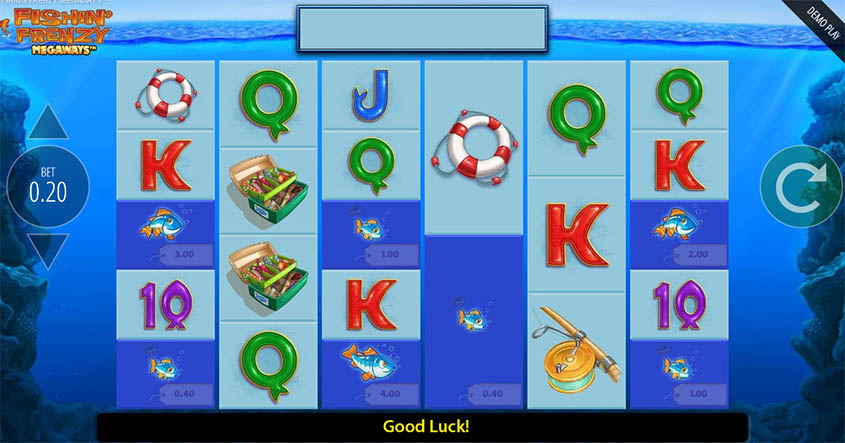 There really isn't too much setting Fishin Frenzy Megaways apart from the original – but, it makes a nice change of pace with the enhanced winning ways and max win. The same free spins round is present, as well, where the fisherman collects fish for instant win prizes.
Fishin Frenzy: The Big Catch
In Fishin Frenzy: The Big Catch, there are just 10 paylines but an enhanced bonus round. As you land fisherman symbols during the free spins bonus, they will be collected.
Every time you've collected four fisherman, two of the lowest-paying instant win fish will be upgraded. So, by the end of the bonus, it's possible that only 50x fish remain!
Overall Review Of Fishin Frenzy
Blueprint's Fishin' Frenzy slot is a fabulous game that combines slot action with all the fun of fishing, and it has been deservedly popular with all kinds of players across the UK who appreciate its style and rhythm.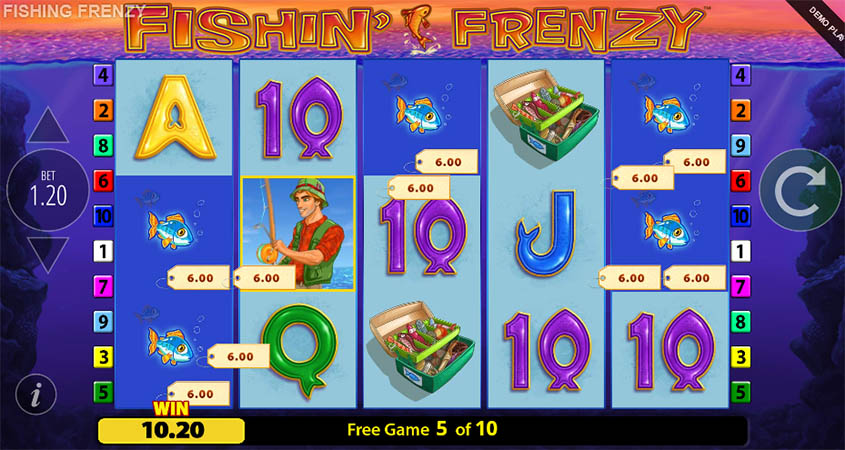 Simple Yet Effective
Fishin Frenzy might not be the most advanced game in the market, but it has remained a favourite among slot fans for years. It's the combination of a simple format and a novel bonus feature that really captivates players.
The symbol collection bonus was certainly way ahead of its time when Big Bass BonanzaFishin' Frenzy was released, and we're surprised we haven't seen it much more often since then. There are only a few games that really utilise it, like Big Bass Bonanza.
Is It Worth A Spin?
When you play Fishin' Frenzy demo slots, your catch of the day may bring you plenty of action, bucket loads of fun and an ocean full of delightful prizes whenever you load it up on your screen!
The Fishin Frenzy Trademark is owned by www.gauselmann.de (owners of Blueprint and Merkur). By writing a review of Fishin Frenzy and providing a link to an external site that hosts a demo version of this game we do not intend to imply that this website is of the same quality as or is an extension of www.gauselmann.de goods or services, is endorsed or approved by www.gauselmann.de or supplied by www.gauselmann.de.
Disclaimer: Fishin Frenzy trademark / license is owned by Blueprint Gaming. This site is not endorsed by Blueprint Gaming.
Fishin Frenzy FAQs